NEWS
For Immediate Release
Dave Sullivan Illustration of a Fanciful Omaha Populated by Humanoid Animals Helps UNO Alumni Magazine Win Two CASE VI Design Awards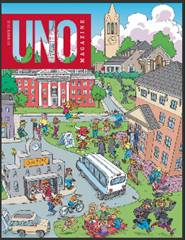 Chicago; December 6, 2012 — A design director's novel idea of using humanized animals for a magazine cover to depict scenes from ordinary life brilliantly executed by an accomplished illustrator from Massachusetts helped the University of Nebraska at Omaha (UNO) alumni magazine garner two "Excellence In Design" awards at this year's Council for Advancement and Support of Education Region 6 (CASE VI) Conference taking place here Dec. 9-11.
The Summer 2012 issue of UNO Magazine garnered both a Silver award for the wraparound cover design of its Summer 2012 issue created by Design Director Heidi Mihelich of Emspace Group and executed by master illustrator Dave Sullivan, and a Bronze specifically for the illustration, both in the category Communications & Marketing, Excellence In Design.
Sullivan's artwork for the complex project reflecting that issue's theme of "No Place Like Home" was used as the front and back covers, and sections of the busy town scene were also referenced as interior spots accompanying a number of feature articles.
"Several buildings and landmarks from the UNO campus were depicted with slice-of-life scenes interspersed throughout the piece. All in all, I assembled a few dozen specifications into the one large cityscape scene," Sullivan explains.
"Of particular importance was the style of rendering," he notes. "Heidi Mihelich requested I draw all of the characters in this somewhat fanciful Omaha as humanized animals reminiscent of Richard Scarry's children's books, particularly the very busy, 'What Do People Do All Day?'
"I employed my usual cartoon line art style with color tones and textures added digitally. It was great fun creating the animal characters. I chose to stick mainly with mammals and generally naturalistic, human-like proportions to clearly depict the intricate interactions."
The UNO alumni magazine also won a Bronze award in Periodicals Design for overall design consistency from issue to issue.
CASE VI is one of eight regional districts, comprised of nearly 200 institutions from Colorado, Iowa, Kansas, Missouri, Nebraska, North Dakota, South Dakota and Wyoming. The CASE VI Institutional Awards recognizing the best work in professional advancement completed from September 2011 through June 2012 were selected from more than 400 peer-judged entries.
Dave Sullivan is an illustrator of books, magazines, newspapers, ads, and Internet-based projects with over three decades of experience in publishing, advertising and editorial illustration. He has created thousands of illustrations for an international array of diverse clientele from The Washington Post, Boston Magazine, Simon & Schuster publishers and Oxford University Press to Oberlin College, Sega Video Games, Fidelity Investments and Nestlé Corporation, among many others.

Sullivan's various styles of illustration are on display at http://www.davesullivan.net/, with links to all of his work available at http://www.davesullivan.net/links.html. He can be reached at the.illustrator@celticweb.com.
An image of the wraparound UNO Magazine Summer 2012 cover illustration is available at http://unoalumni.org/view.image?Id=14228.
More information about the UNO Alumni Association 2012 CASE VI awards is available at http://unoalumni.org/case2012dec.
# # #
Editorial contact:
John Hebert / Hebert Communications
+1-617-232-1161